Suma Capital joins the celebration of 250 years of Foment del Treball at the MWC
05/07/2021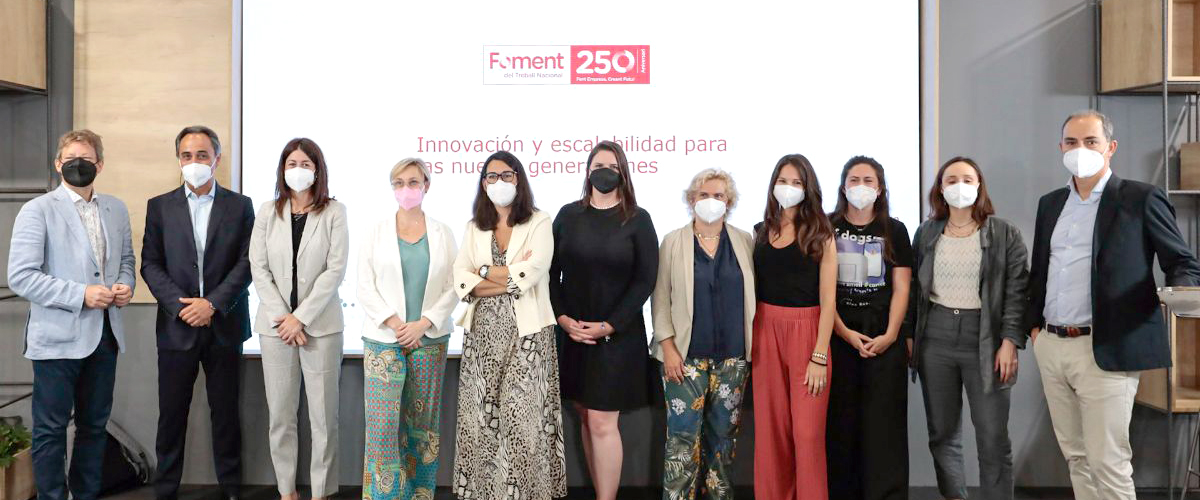 As part of the celebrations for its 250th anniversary and its partnership with the Mobile World Capital Foundation, the Catalan employers' association Foment del Treball Nacional held the "Innovation and Scalability for the New Generations" meeting on a stand at the Mobile World Congress (MWC), opened by the CEO of Mobile World Capital Barcelona, Carles Grau, and the vice president of Foment, Virginia Guinda.
The meeting was structured into two thematic panels. The first of them was introduced by Emma Marwood, acting consul general of the United States Consulate General in Barcelona. She began with the presentation of the Catalan edition of the Academy for Women Entrepreneurs (AWE), promoted by Foment and the Consulate General.
After the presentation, the panel focused on the challenges and opportunities for the new generation of innovators. The round table was made up of four entrepreneurs that were selected in the Catalan edition of the Academy for Women Entrepreneurs 2021 for their innovative projects. It included the CEO of The Smart Lollipop, Diana Ballart Cerdán, the CEO of The Blue Box Biomedical Solutions, Judit Giró Benet, the CEO of Julia G Escribà, Julia Garcia Escribà, the CEO of Gate2Brain, Meritxell Teixidó; and the Director of Innovation of Foment, Maria Mora, as chairperson.
The second section revolved around financing as a lever for growth. Pau Bermúdez-Cañete, partner of Suma Capital, took part in the round table along with David Cortacans, Senior Advisor at JB Capital Partners; Albert Colomer, vice president of Business Angels Network Catalunya (BANC); and the vice president of Foment, Mar Alarcón, as chairperson.
The main conclusion reached was that in recent years the financial ecosystem of the city of Barcelona has managed to expand and organise itself, establishing many similarities with the one operating in Silicon Valley.
The significant growth in projects has been possible thanks to the support for financing solutions beyond the traditional business angels. This, along with the active participation of new financial stakeholders that solve entrepreneurs' constant search for financing, allows them to concentrate on empowering innovation and on developing their business ideas.
View the full video of the meeting