Enagás and Suma Capital launch first private industrial biomethane installation connected to Spanish gas grid
04/11/2021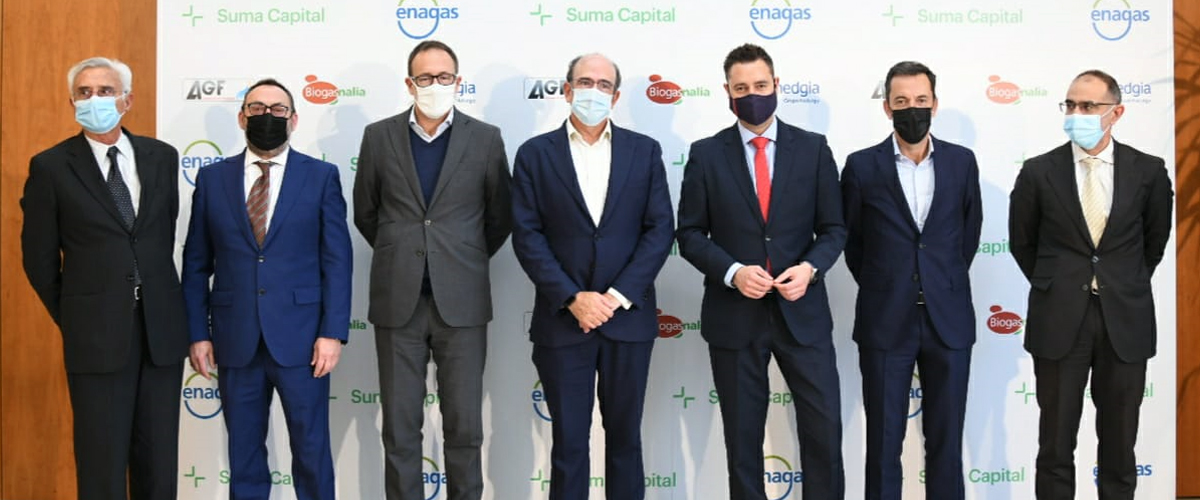 At Suma Capital, we are very pleased to announce that, along with Enagás, we have launched the first industrial biomethane production facility connected to the Spanish gas grid as the outcome of a private initiative.
With the project name UNUE, in September 2020 we started construction on this plant, which will allow biogas to be transformed into biomethane. To do so, during the development and launch of production at the plant we have partnered with AGF Ingeniería de Procesos, which specialises in renewable gases.
The plant is located in the Villalonquéjar industrial estate (Burgos), and the Burgos-based company Biogasnalia, a benchmark in waste management in Castilla y León that belongs to the Ecoalia group, will be in charge of generating biogas at the facility.
After a year of work, last September the first biomethane injections began, and the Nedgia network, the gas distributor of the Naturgy group, is the first company to receive it.
UNUE's objective is to produce and inject approximately 20 GWh of biomethane per year into the Spanish gas system, which would mean a reduction of about 30,000 equivalent tonnes of CO2 per year in emissions.
UNUE is the first project to emerge from the agreement that we signed in 2019 with Bioengas, a subsidiary of the brand created under the framework of Enagás Emprende that year, and is currently a part of Enagás group.
Biogas can be obtained from different processes, such as the anaerobic decomposition of biodegradable organic waste from industry or crop/livestock farming, and it is turned into biomethane after a technological process called upgrading.
Biomethane is a local, storable, renewable energy source with continuity rates that no other renewable energy source can offer at this point, and therefore it is one of the most efficient energy solutions. It can also be transported along the existing gas infrastructures and has multiple energy uses, including in energy-intensive industry and as a sustainable fuel for vehicles.
During the project launch in Burgos, Ruperto Unzué, a partner of Suma Capital, ​which manages the largest economic fund earmarked to the energy transition in Spain, wanted to highlight that 'investments like UNUE enable us to achieve the goal of adding our commitment to achieve the future that we believe in, with decarbonised, local energy'.
In this vein, he also noted that 'at Suma Capital, we will continue to promote projects with an impact that contribute to improving energy efficiency, a strategic factor within a context of the global crisis in supply sources, and to developing a circular economy model that is more efficient in its use of resources to allow us to make inroads towards the sustainability of the environment and the productive system'.
Access the video news about the UNUE project
Photo: UNUE launch event in Burgos. Left to right: Fernando Selva, Founding Partner of AGF Procesos; José Luis Alonso, Director of Biogasnalia; Narcís de Carreras, CEO of Nedgia; Marcelino Oreja, CEO of Enagás; Daniel de la Rosa, Mayor of Burgos; Ruperto Unzué, Partner of Suma Capital; and Mariano Muñoz Fernández, Head of the Territorial Service of Industry, Trade and Economy of Burgos.